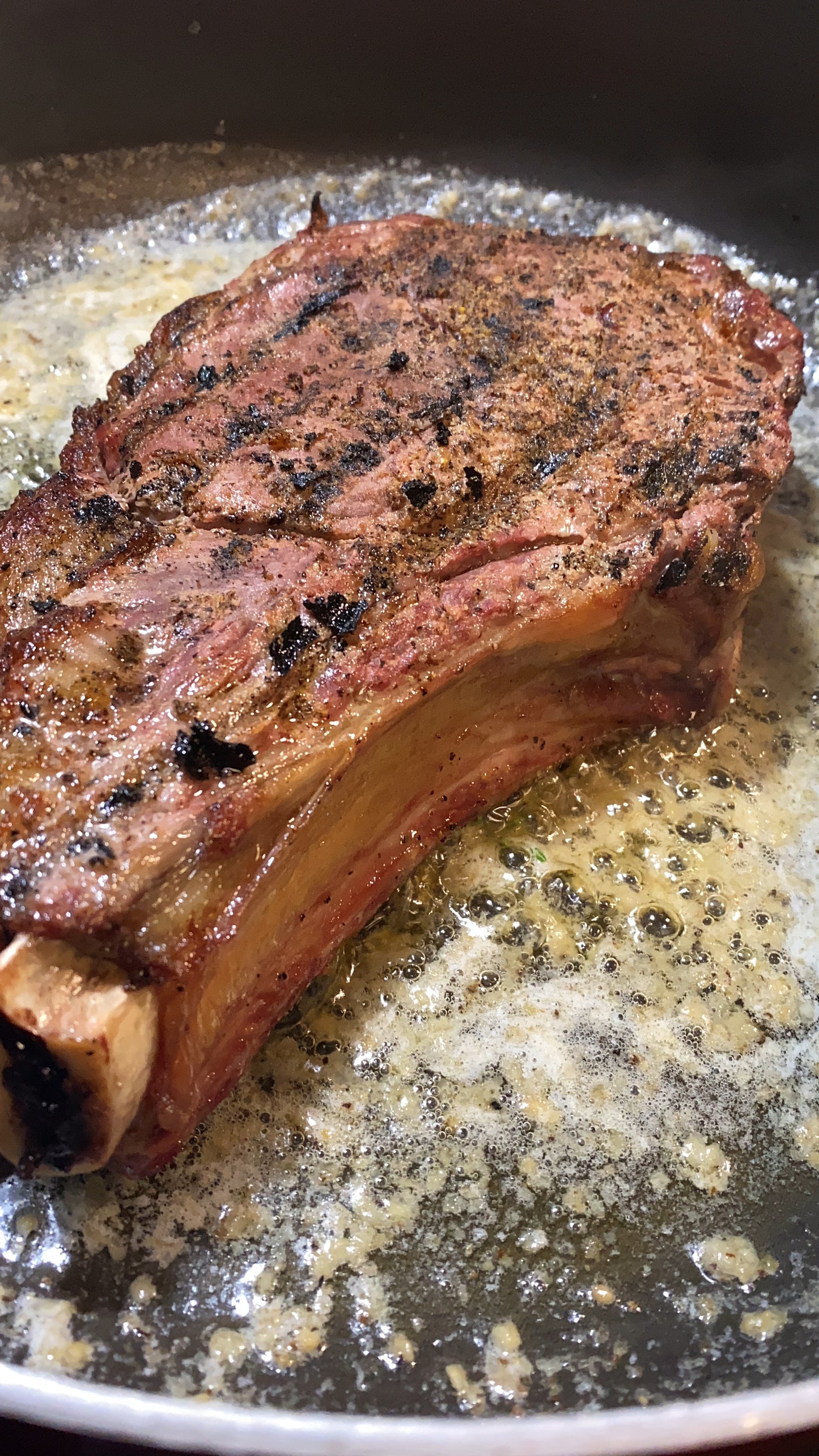 Grilled, then seared in a pan for the best flavor. 
When you're in the beef business, you experiment with the different methods of cooking your beef. Although we've tried quite a few, one method we keep coming back to is the 'reverse sear'. It locks in a great flavor, almost creating a flavorful crust, that will keep you coming back to this method just as we do. 
If you do a simple Google search, you'll find many sites stating the reverse sear as the best way to prepare a steak. The method is best use on thicker cuts of steak, such as the bone-in ribeye (pictured above), a strip steak, or t-bone steak. You can grill, or place your steak in the oven, and then toss your steak on high heat in a skillet. 
Here's how we reverse seared our bone-in ribeyes:
 -First we seasoned up our steaks with some salt and pepper and set our grill to 400ºF 
-We then threw our steaks on the grill and cooked them to an internal temp of 125ºF
-After we pulled our steaks from the gill, we let them rest for about 5-10 minutes
-While the steaks were resting, we prepared our skillet with butter, chopped garlic, and fresh rosemary 
-We then placed our steaks in the skillet and seared them on each side for about a minute (this will cook the steak to an internal temp of 145º for a medium rareness)
Y'all can't tell us after watching that video your mouth isn't watering! Once our steaks reached an internal temp of 145º, we pulled them let them rest, cut them, and plated them with some of our favorite sides. 
If you try this method on our beef, be sure to tag us and let us know! We love seeing how our customers use our beef. 
As always thank you for supporting us, and remember EAT BEEF!