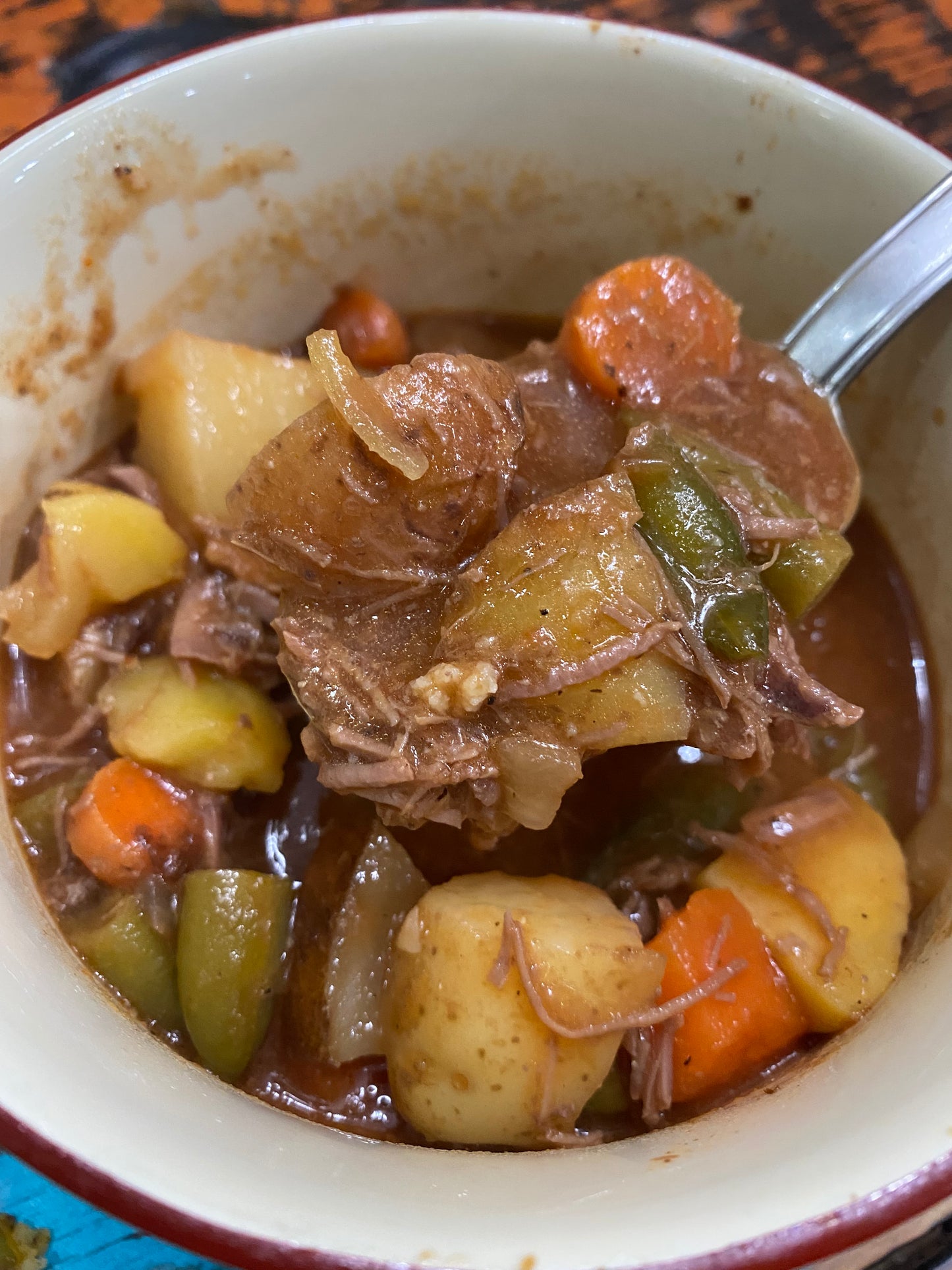 It's officially Stew Season y'all. 
Welp. It's official. The temperatures have officially dropped here in Texas and we're fixing up our Cowpoke Stew for supper. It's the perfect, hardy meal for your cowpoke after a long, hard days' work in the cooler temps. Pair it with some cornbread and your meal is complete and sure to warm every belly you feed. 
Our Cowpoke stew is pretty simple to make, it's a favorite here at Chapman 3C, and you can pretty much add and take away whatever you like. We pretty much had all of the ingredients in our cupboard and fridge and you most likely do too. 
So here's what you'll need:   
2 

 

lbs. Chapman 3C Stew Meat
3 tablespoons extra-virgin olive oil divided
2 -3 teaspoons kosher salt divided
1-2 teaspoon ground black pepper divided
1 large yellow onion
2 cloves garlic
4 medium carrots
1

 

24oz pkg. baby gold potatoes
1-2 cans of sweet corn
1 small pkg. Frozen green beans
2 pkg. Lipton onion soup mix
1 large carton beef broth
4 tablespoon Worcestershire sauce
1 large bottle of low sodium V8 juice
**All vegetables are optional depending on what your cowpoke(s) like! 
Here's how you'll prepare it: 
1.  Cut stew meat into 1 1/2-inch cubes, removing any large, tough pieces of fat or gristle.
2.  Add 1-2 Tbs. of oil to a skillet and sear meat on both sides
3. Then add meat to an instant pot or crockpot.
4. Add 1 carton of beef broth
(Turn Instant pot on manual for 30 minutes and let the meat release naturally or turn crockpot on low.)
5. While meat is cooking. Cut carrots and potatoes up to desired size and sprinkle with salt, pepper, garlic powder. Place on a cookie sheet sprayed with Pam. Cover tightly with foil. Cook on 350 degrees for 30 minutes. (This step can be skipped if you use the crockpot.)
6. Use skillet from seared meat. Add oil or butter. Cut onions up and add garlic. Mix onion Lipton soup mix and  Worcestershire sauce and pour into skillet. Let simmer on low.
7. Cook green beans according to package.
8. When the meat is cooked in the instant pot, add all meat and the juice to crockpot or large pot with a lid.  Add onion mixture, all  vegetables including can corn, and bottle of V8 juice. Let it simmer for at least an hour. 
We served it in our favorite soup bowl with cornbread-- perfect for this cold and rain! 
As always, thank you for supporting 3C and your local rancher! EAT BEEF!