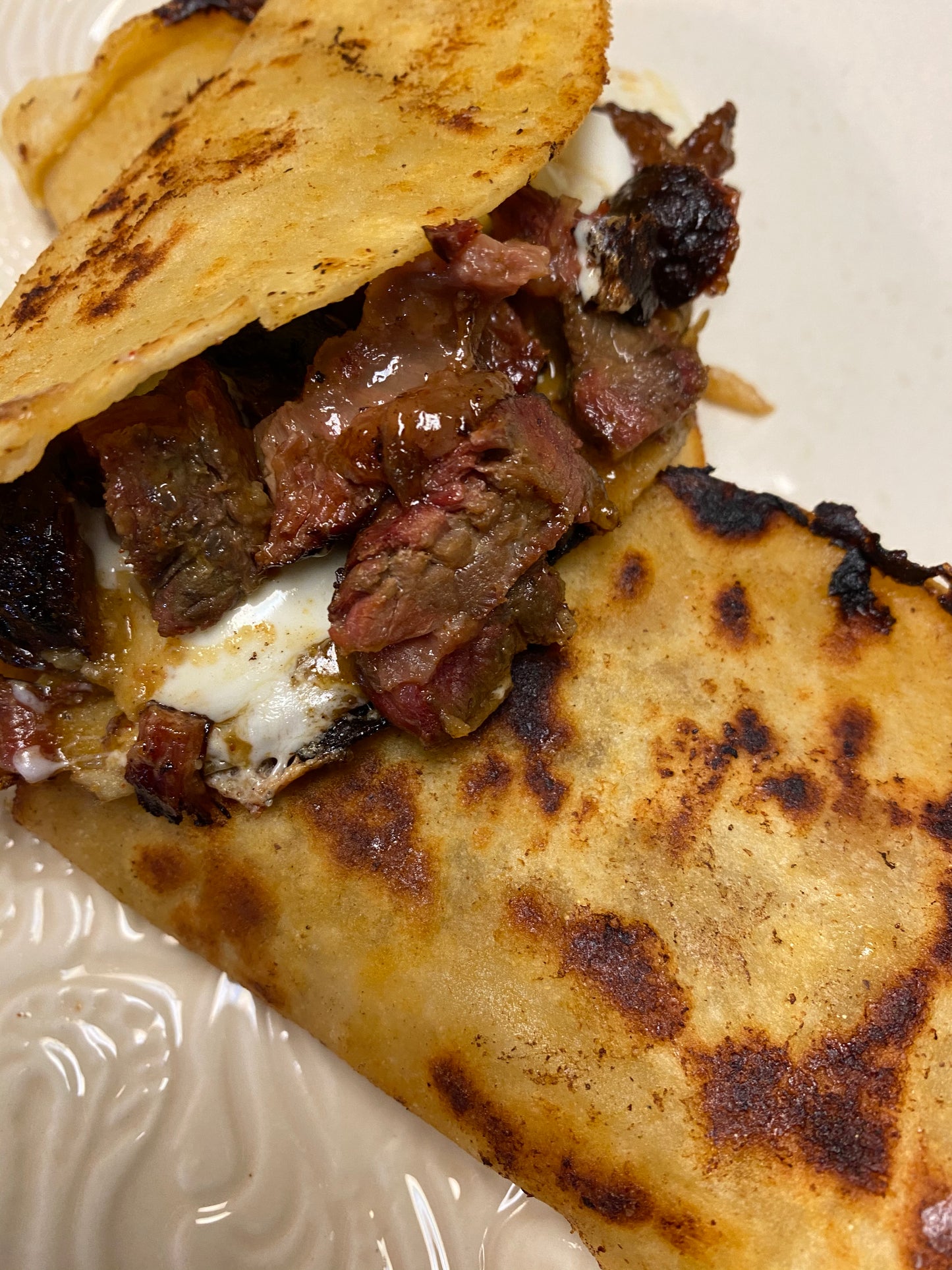 Mrs. Connie's Shank Steak Tacos
Equiptment:
Frying Pan
Outside grill for smoking meat (optional but preferred)
Instant Pot or Crockpot (preferably Instant Pot)
Cutting Board
Ingredients:
2 Tbs. vegetable oil
2 Tbs. chili powder
2 Tbs. smoked paprika
1- 2 tsps. garlic powder
1-2 tsps. onion powder
1-2 tsps. kosher salt
1-2 tsps. pepper
1 whole or chopped jalapeno (½ cup of pickled jalapenos can be used for less spiciness)
Optional: 1 seeded dried ancho chile, chopped into large pieces (dried poblano peppers are called ancho)
1 - 1½ cups beef broth or stock (Instant Pot needs 1 cup and Crock Pot needs 1½ cups)
½ cup water for pan drippings
½ cup of Worchester sauce
Extra garlic powder, salt and pepper for seasoning shank steaks while searing
1 large package of corn or flour tortillas (your preference)   
                                         Butter for heating tortillas                                           
Garnish Ideas:
Melting cheese (graded mozzarella or Oaxaca)
Diced sweet onions
Chopped cilantro
Sour Cream
Lime slices
Instructions:
Add vegetable oil to a frying pan. While oil is heating, use extra garlic powder, salt and pepper to season the shank steaks on both sides. When oil is hot, add shank steaks and sear on both sides and remove from pan. Add ½ of water to frying pan drippings and mix. You will save the dripping mix in the pan for later use. Wipe frying pan and leave out for making the taco.
Heat outside grill to 250 degrees (We use our Recteq 700 model pellet grill). When temperature is reached, place all shank steaks on grill. Allow the steaks to smoke for 2-3 hours. Turn shank steaks over once to smoke evenly on each side. (If you do not have a grill that will smoke, skip this step but add extra smoked paprika. It will not have the same flavor but should still be tender with some smoky flavor!)
Once meat is smoked, prepare Instant Pot.  Add the dripping mix from pan, beef broth/stock, Worchester sauce, jalapenos and all remaining seasonings. Dried ancho peppers are optional but add a smoky flavor. Close the Instant Pot lid and cook on High pressure for 40 minutes. Allow a natural release for about 15 minutes. Remove lid carefully.
CROCKPOT:
Place the dripping mix, beef broth/stock, Worchester sauce, jalapenos and all remaining seasonings in crockpot. Stir to combine. Place lid on slow cooker and cook on high for 6-7 hours or until meat is tender and easily shredded. If you'd like to thicken the sauce, strain sauce from slow cooker into a saucepan and allow to reduce on stove top over medium high heat until thick and glossy. Add back to the meat.
Use tongs to take all steaks out of the pot and lay on cutting board. Use a slotted spoon to remove any meat from pot and add to cutting board. Allow time to cool! Pull or cut all meat from the bone and chop into small pieces. Place in a large bowl. Add enough juice from pot to moisten the meat in the bowl.
(DO NOT throw away the bones! Shank steak bones are very nutritious for making bone broth. Most will have a hole in the middle of the round bones that is filled with bone marrow. The meat butter from these bones holds SO MUCH nutrition! Freeze all bones from this recipe and use to make delicious and healthy beef bone broth at a later time.)
Heat frying pan to a medium high temperature. Have graded cheese, tortillas of choice, meat mixture, and a plate for cooked tacos near frying pan. Spread butter and a few drops of meat juice in the pan. Lay several tortillas in the pan without overlapping. If you use corn tortillas, double them for thickness to prevent tearing. When the tortillas are brown on the bottom, flip them over. Then on one half of each tortilla, add meat and sprinkle with cheese. Fold the tortilla in half like a taco. Use a spatula to press the taco together and flip if necessary to ensure a nice crispness but do not overcook.
Sprinkle with cheese and garnish of choice.
As with all of our recipes, please feel free to add your own touches! We have looked up many different recipes for inspiration and here are a few similar ones for
shank steak
 (
Osso Bucco
) tacos: 
If you recreate this recipe, or any of the ones above, with our beef please share with us! We truly enjoy seeing and sharing what our customers can do with our meat. Thank you and EAT BEEF!