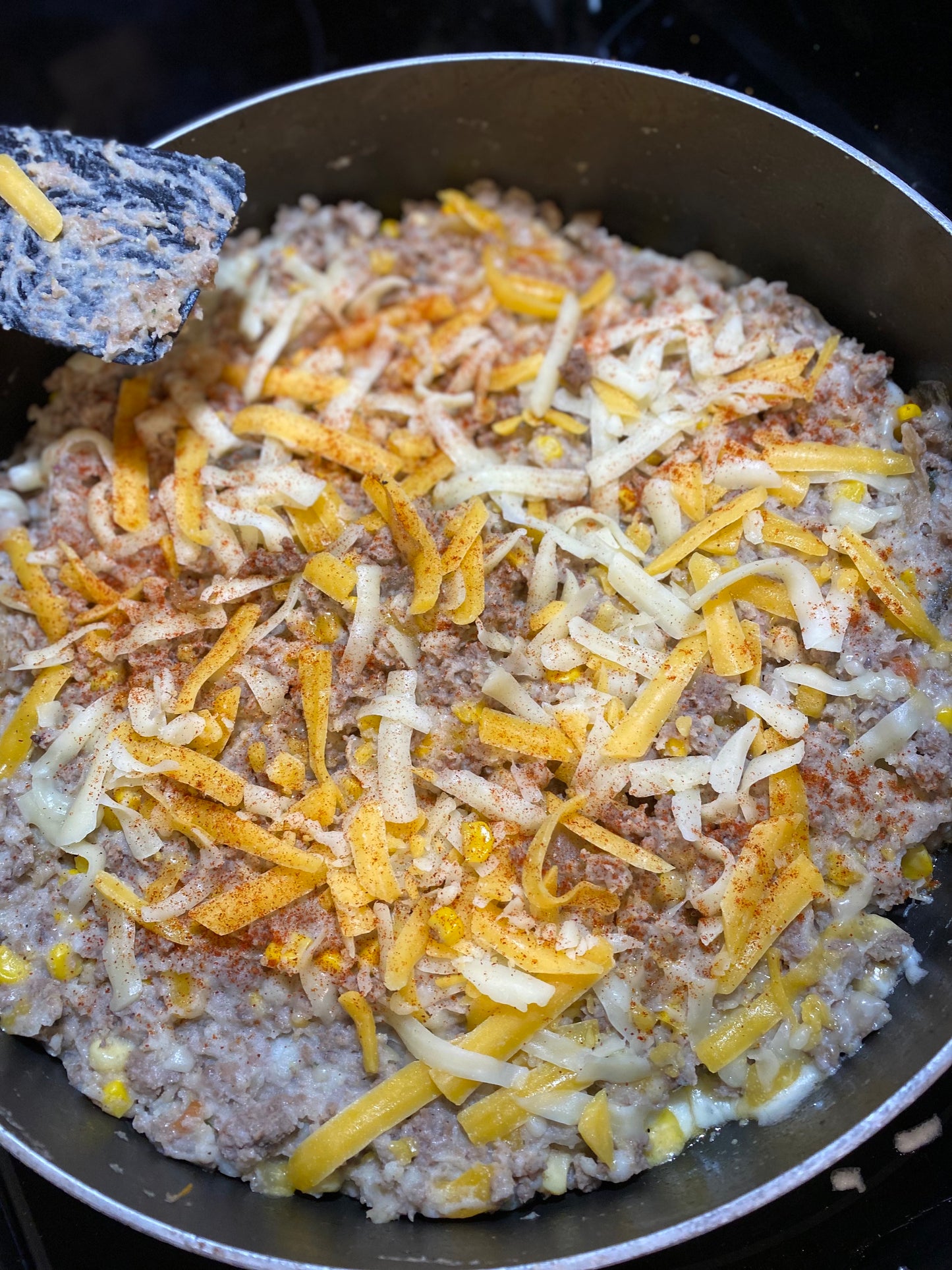 Herdsman's Pie
Needing something quick and easy to whip up in the kitchen to feed your hungry cowboys? The Herdsman's Pie is the perfect recipe for you! We gave a twist on the typical Shepherd's Pie recipe and we know your cowboys are going to love this twist. 
Have we mentioned how easy this recipe is? We cooked it up in less than 30 minutes and didn't take much prep!
What you need: 
2lbs of Chapman 3C Ground Beef 
Two packages of Idahoan Instant Mashed Potatoes (easy and fast, if you're feeling fancy you can definitely make your own!)  
Half a bag of baby carrots cut in rounds 
One yellow onion chopped 
One Jalapeño chopped
salt, cracked black pepper, garlic powder, smoked paprika, and cumin for seasoning.
One bag of shredded cheese (to top it off)
How to make it: 
Cut your carrots up into rounds, cut your onion into strips (or finely chop-they will cook faster this way), and chop your jalapeño. 
Add them all to a pan and sauté with olive oil (or butter) until the onion turns opaque 
While the vegetables are sautéing in the pan, in another pan start browning your ground beef
Season your ground beef with your salt, pepper, garlic powder, and cumin (use however much your heart desires!)
You can then start making your instant potatoes, this is the easiest step, just follow the directions on the package (we added some butter and milk to ours!) 
Once you have the veggies sautéd, ground beef browned, and potatoes ready begin adding them all together (we added scoops of the potatoes in layers to make it easier to mix all together) 
After we had all of the ingredients mixed, we topped it off with more seasonings, the smoked paprika, and a layer of cheese
We plated this in a bowl and served with a spoon
(P.S. If your cowboy(s) are anything like us, we added some Louisiana Hot Sauce for some added spice!) 
Like all of our recipes, if you remake it, be sure to share it with us. We hope you and your "herdsman" will love this one just as much as we did! Thank you all for supporting small businesses and the beef industry. EAT BEEF!