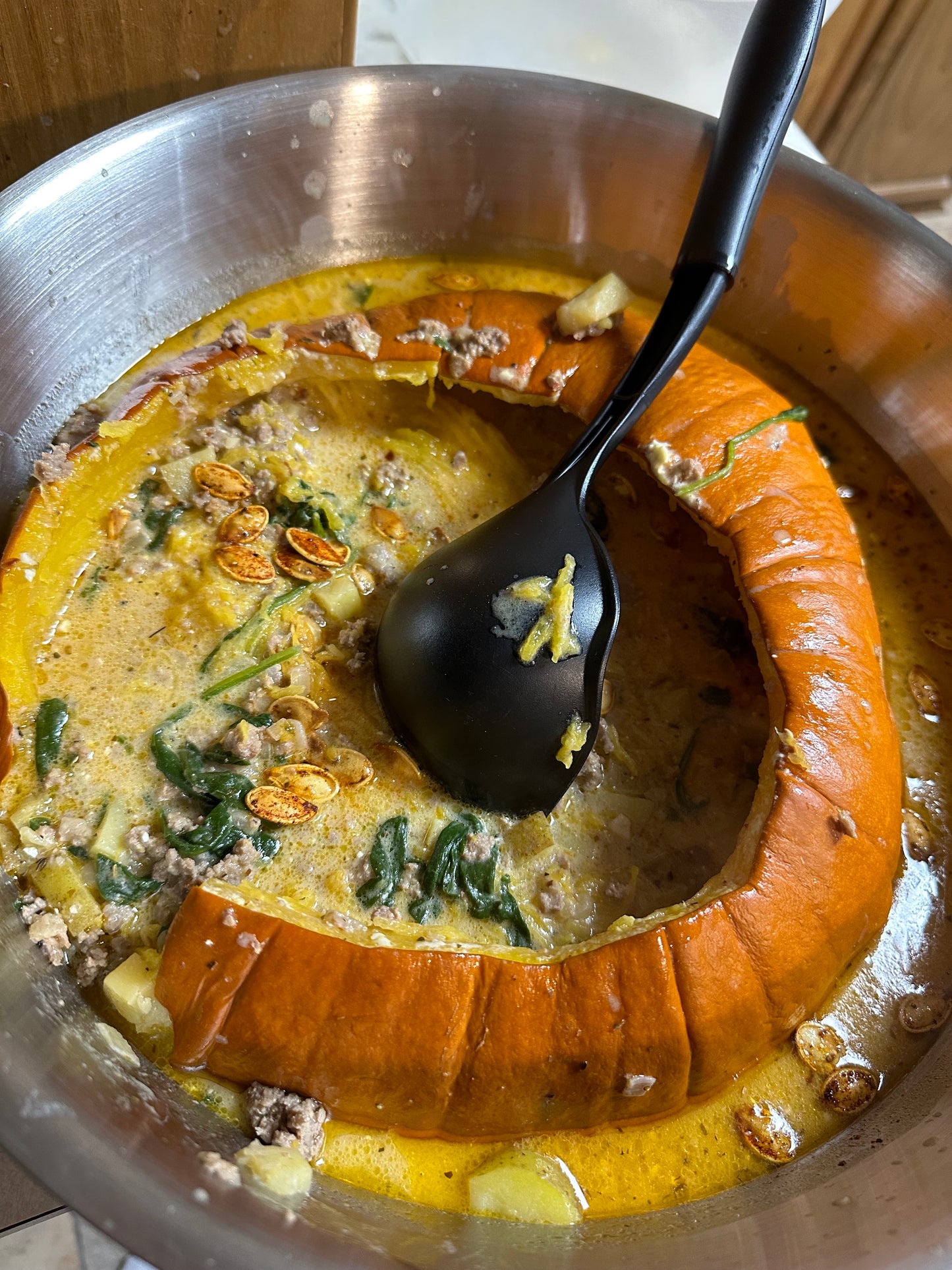 The Fall Soup Your Cowboy Will Love!
We say this with full confidence, because even our cowboys loved this soup! 
This soup is perfect for a chilly, fall evening. A rarity here in Texas, but when you have one of those evenings, you have to make soup! Our cowboys don't typically eat soup, but this one was a hit and everyone enjoyed it. 


Not only does the soup taste good, but it makes quite a bit so if you're hosting a group of people, or needing to cook for a large group of cowboys, this is the perfect dish. Not to mention the way you serve it will for sure be a topic of conversation at dinner and from then on. You will definitely have people asking for the recipe! 
Here's what you need: 
(1) Medium Pumpkin, gutted 
(1) Package of 3C Ground Beef 
(1) Package of 3C Ground Pork
(1) Large Yellow Onion Chopped 
(6) Cloves of Garlic, Minced 
(8) Cups of Beef Broth 
(10) Yukon Gold Potatoes, diced (you can also use red potatoes)
(2) Cups of Milk 
(3) Tablespoons of All-Purpose Flour 
(2) Tablespoons of Butter
(6) Tablespoons of Cream Cheese (Plus a package to line the pumpkin!)
(1/2) Teaspoon of Salt 
(3) Cups of Spinach or Collard Greens 
Red Pepper Flakes
Smoked Paprika
Italian Seasoning 
Pink Himalayan Salt
Coarse Black Pepper
(We season with our hearts around here and don't measure, so season to how your cowboys like it, and enjoy!) 
Here's how to make it! 
Start by preheating your oven to 350º. Gut your pumpkin, save the seeds for later, and line the pumpkin and lid with a whole package of cream cheese. (Soften the block first, it makes it easier to spread around the pumpkin!)
Place the lid on your pumpkin, set your pumpkin on a cookie sheet (THIS IS SUPER IMPORTANT TO NOT MAKE A MESS IN YOUR OVEN!) and place it in the oven. Cook for about an hour, or until the pumpkin is tender. Make sure to set a timer... or your pumpkin will fall through the bottom. We know from experience! 
While the pumpkin is cooking, prepare the soup. Place your ground beef and ground sausage into a large soup pot over medium heat. (You can also use two pounds of ground beef, we chose to use both pork and beef!) Add your onion, garlic, red pepper flakes, smoked paprika, salt, and pepper to the meat and sauté until the meat is cooked. 
Next add your beef broth, Italian seasoning, and potatoes. Bring your mixture to a boil, and boil until the potatoes are tender. While the potatoes are cooking, prepare the cream sauce. Add the milk, cream cheese, flour, and salt into a blender and mix until smooth. 
In a separate saucepan, melt the butter and add the blended cream mixture. Stir until it is very thick. Once your potatoes are done, add in the cream sauce to your soup, along with your greens. Cook until your greens are wilted down. Remove from heat and pour into your cooked pumpkin! 
We scraped the sides of our pumpkin as we served, added a little cheese on top, and sprinkled roasted pumpkin seeds on the top of our soup. 
Serve with your favorite bread, ours is sourdough, and you've got yourself the perfect fall soup!