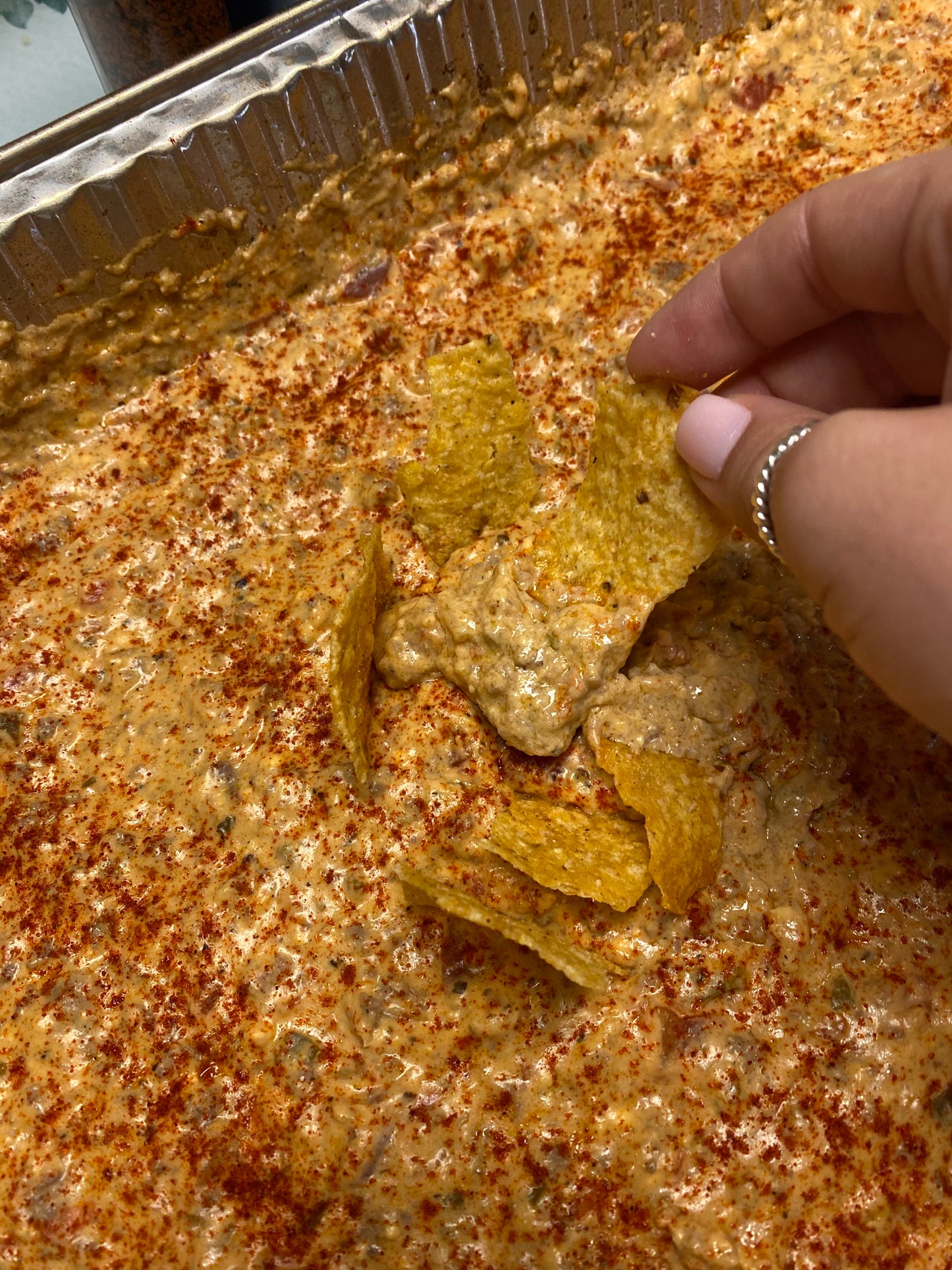 Colby's Smoked Queso
Chips and Queso. An iconic duo, the perfect appetizer, and sometimes, a meal if you aren't careful! Our son Colby loves to cook, and when he had the idea of making smoked queso for an after church snack, we couldn't wait to try it. 
 You may have seen a smoked queso recipe all over the internet here recently, but we can assure you, this recipe is 10 times better. We titled it Colby's Smoked Queso because Colby puts his own spin on this recipe. Prepare it for large gatherings or, a Sunday afternoon snack, and your crew is sure to love it. 
Here's What You Need: 
-2lbs. of Chapman 3C Ground Beef
-1lb. of block sharp cheddar cheese 
-2 8oz. blocks of cream cheese  
-1 block of Velveeta Cheese
-25oz. of the light beer of your choice
-2 10oz. cans of Rotel 
-4 jalapeños (we used four finely chopped and one cut in strips) 
-2 yellow onions 
-sour cream (just a little to add in after the meat)
-Salt, Pepper, Garlic Powder, Chili Powder, Meat Church "Holy Cow" (or season salt), Smoked Paprika 
-Julio's Corn Tortilla Chips 
-a large foil pan
Here's how we put it together: 
-First we cut up the cheddar cheese block into small squares. You will layer the bottom of the pan with half of the squares and you will save the other half for later. 
-Then you're going to want to cut up your Velveeta into chunks or squares, and layer them with the cheddar cheese on the bottom, saving the other half for later. 
-Once you have a layer on the bottom of the pan of Velveeta and cheddar cheese, add your light beer of choice. 
-Next, you're going to add a layer of all the dry seasonings. 
-Now comes the blocks of cream cheese. You're going to want to cut up the blocks in chunks and layer them over the top of the Velveeta and cheddar cheese. 
-Once you add the cream cheese, you're going to finely chop up your onion and jalapeños and add them to your mixture. 
-Next, add your cans of Rotel. 
-Now you're going to top that off with the rest of your Velveeta and cheddar cheese. 
-We then added more dry seasonings to the top layer, and jalapeño slices. 
-Get your smoker ready and set it to 250° and add your pan. 
-While the cheese is getting that great smoky flavor and melting down, throw your 3C Ground Beef into a skillet and brown. 
-Stir your cheese mixture occasionally until the cheese is all melted and it begins to bubble in the pan. This should take around an hour. 
-Pull your cheese off of the smoker, and stir in the ground beef. 
-We added a little sour cream to the top and stirred it in, and added some smoked paprika. 
-Serve with your favorite chips, ours are Julio's Seasoned Cron Tortilla Chips, and enjoy!
If you try Colby's Smoked Queso, please share with us! We love seeing our customer's creations. Thank you for supporting small business and the beef industry! 
** Side note: Because we cooked this for a large crowd, we used a large foil pan and used all of our cheeses and doubled the other ingredients. Normally we use a smaller pan, only 1lb. of ground beef, about 3/4 of the Velveeta, half of the cheddar cheese, a smaller beer, one can of Rotel, one block of cream cheese, a couple of jalapeños, and one onion. Adjust to your liking and how many people you are serving.