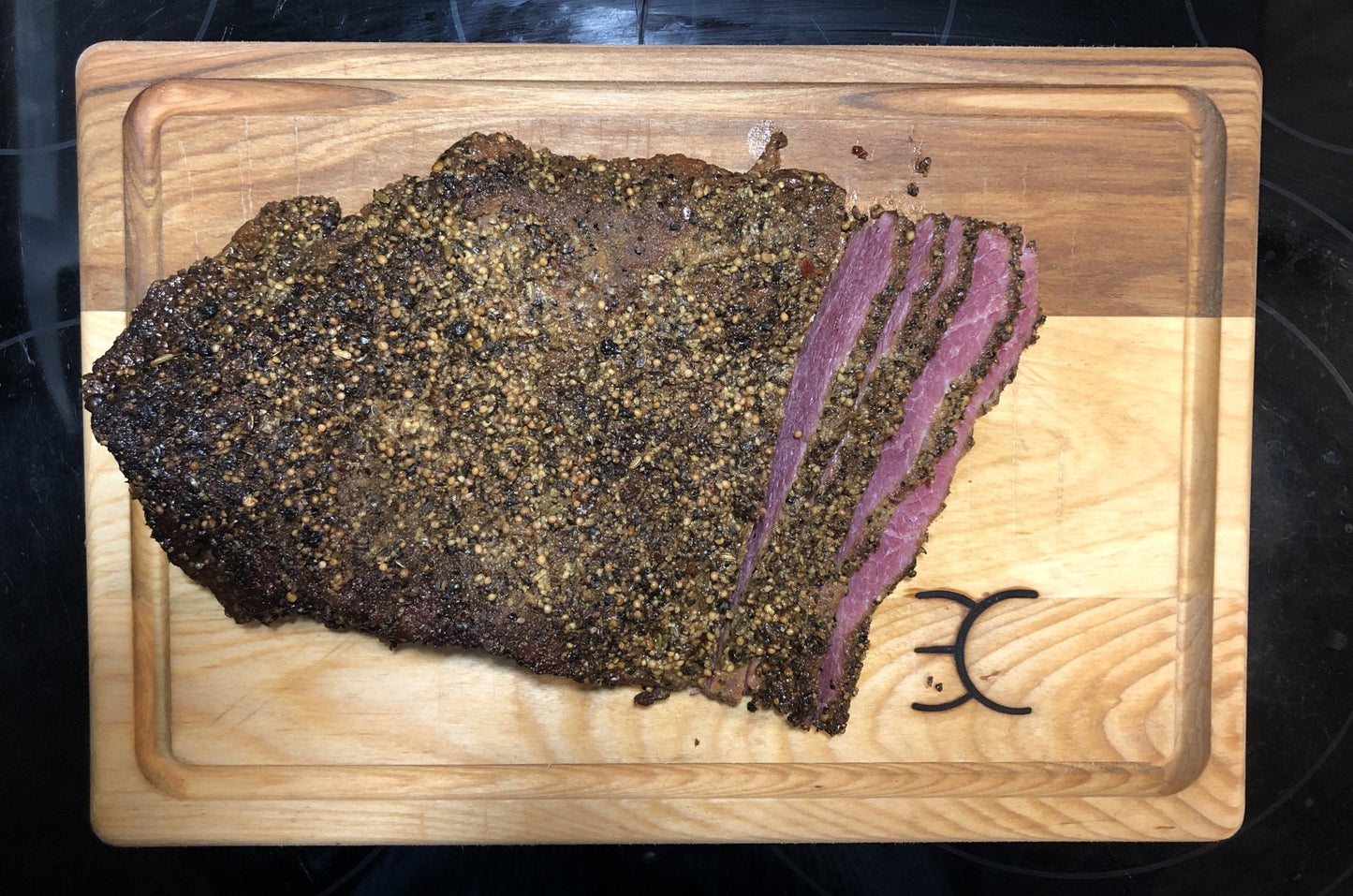 Here at 3C we love good pastrami. The process might take some time, but we know, it is 100 percent worth it. This is one of our favorite ways to prepare our brisket and once you try it, you'll realize why.
We love preparing a Ruben sandwich with our pastrami meat—we even have a secret sauce we might share the recipe for if you hang around! Even when we don't have all of the ingredients for a Ruben, our pastrami makes the best cold cut sandwich meat.
Now that you've read our reasons why we love it, and what makes it so good… Here is what you need to make the pastrami:
The CURE:
10 cups water
2/3 cups sugar
6 tablespoons of pickling spice
2/3 cup coarse kosher salt
2 teaspoons of pink curing salt (1tsp per 5lb raw beef in 1 gallon water)
The RUB:
6 tablespoons of pickling spice
3 teaspoons of garlic powder
6 tablespoons of coarse black pepper
3 tablespoons coarse ground coriander
3 teaspoons of mustard powder
INSTRUCTIONS:
Trim fat from your 3C Brisket
Mix water salt and sugar in pan over low heat. Stir until the sugar and salt have dissolved. Let cool, then add the curing salt and spices.
Lay brisket in a large container and add the mix. Brisket needs to be completely covered in water/mix. Cover container and place in refrigerator for 6 days.
On the 6th day remove your 3C Brisket from your brine. Your brisket should be grey in color. Discard the cure and replace with clean water. Soak your 3C Brisket in clean water for 2 hours. Remove your 3C Brisket from the water and pat dry.
Place brisket on a cooling rack inside of a full size pan to dry. Leave it in refrigerator overnight to dry.
The RUB: Combine all the ingredients for the rub in a bowl. Remove your 3C Brisket from refrigerator and let it come to room temperature. Season the outside with the rub.
Fire up your smoker to 250f. Place your 3C Brisket in the smoker and smoke for 4-6 hours until the internal temperature reaches 160-165 degrees.
Wrap your 3C Brisket in pink butcher paper and place it back on the smoker until the internal temperature reaches 205f degrees.
Remove your 3C Brisket from the smoker and let rest for 2 hours.
Slice and serve!
Don't forget to share with us your finished product! We love seeing our customer's creations. Thank you for reading and supporting the beef industry!