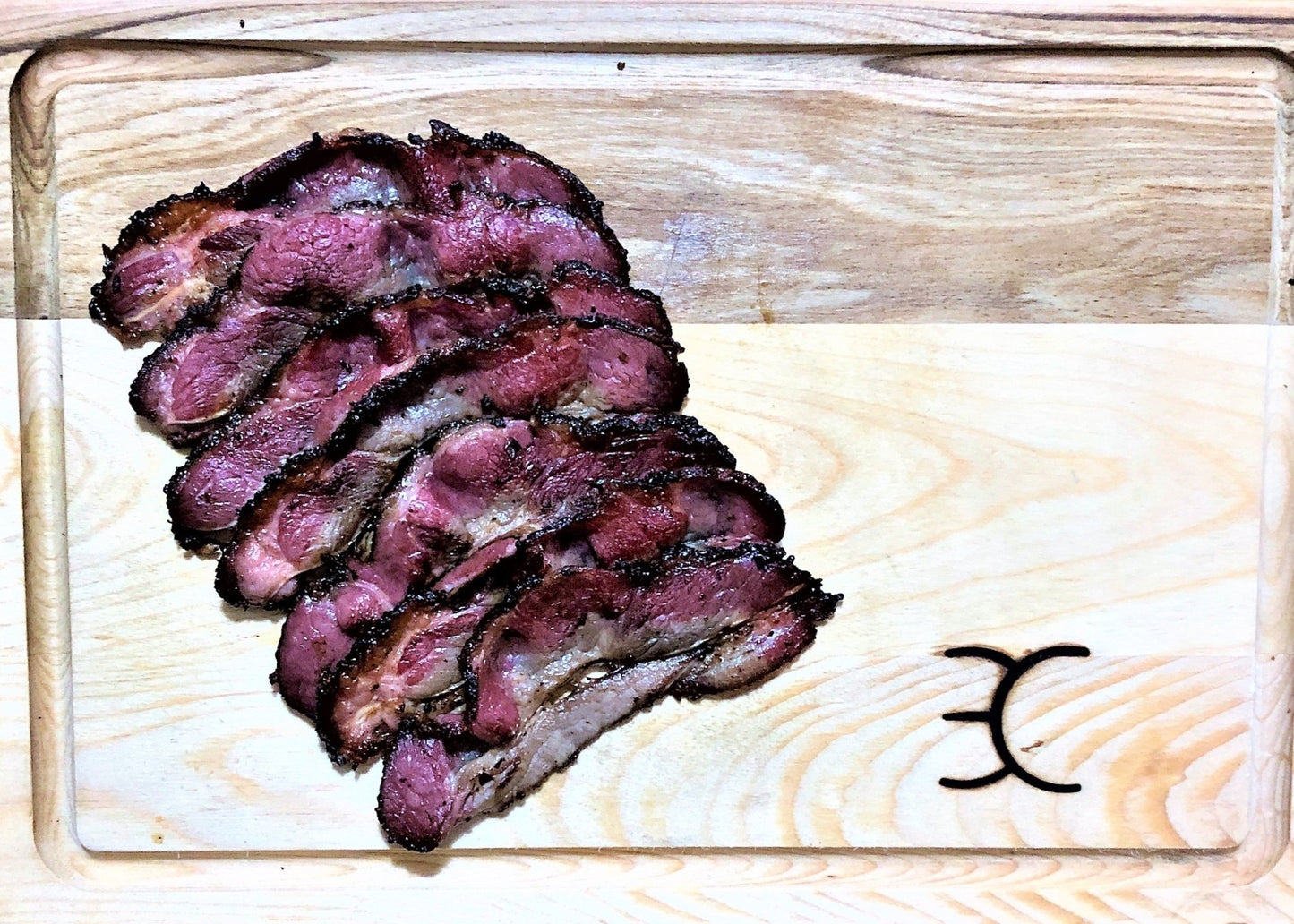 Smoked Beef Bacon
It's hard not to love bacon... It is the perfect addition to your eggs in the morning, it goes great on a burger, and is the perfect addition to your vegetables. One thing we love here at 3C is using our Beef Navel to create beef bacon. 
You might be thinking, beef bacon? And our response to that is, YES. Don't get us wrong, we love pork bacon, but if you haven't tried beef bacon you are definitely missing out. We have nailed down the perfect recipe and once you try it, you might just have a new favorite bacon recipe!
Here's what you will need:
1X

 

3C Beef Navel

 

8-10lb
6 tablespoons kosher salt
2/3 cup white sugar
4 tablespoons pepper
4 teaspoons paprika
2 teaspoon Prague's Premium #1 pink curing salt
Here's how to make it:
Combine all the ingredients and rub mix on the the beef belly. Make sue you cover all sides.
Place your

 

3C Beef Navel

 

into a plastic container or a large zip lock bag. Place in refrigerator for 5 days and let it cure. Message it once a day to make sure cure is even on navel.
After cure is complete, remove your

 

3C Beef Navel

 

from fridge and rinse all rub mix from navel under cold water. Pat dry and place navel on a drying rack inside a large pan. Place back in fridge uncovered to dry overnight.
SMOKE YOUR BEEF NAVEL:

 

Heat your smoker up to 200-215f. Place you

 

3C Beef Navel

 

into your smoker and smoke until the internal temperature reaches 150f.
Remove your beef navel and let cool before slicing. It is best to return it to the fridge overnight for easy slicing.
COOKING YOUR BEEF NAVEL:

 

Thinly slice your beef bacon and cook in skillet or griddle on medium heat until crisp. Thin slices work best for beef bacon.
We hope you enjoy this recipe as much as we did. Don't forget to share with us your finished product! We love seeing our customer's creations. Thank you for reading and supporting the beef industry!